The incumbent Liberal-National Coalition government, led by Prime Minister Scott Morrison, is seeking a fourth consecutive term in office. Opposition leader, Anthony Albanese, is seeking to return the Australian Labor Party (ALP) to government for the first time since 2013. Both parties have prioritised infrastructure investment in their election campaigns which could see some attractive investment opportunities for listed operators should they deliver on promises – in particular we see the energy and transport sectors growing.
The politics of the election
The election is likely to be closely contested, with a significant chance that decisions of the next Parliament will be swung by minor parties and/or independent candidates. This includes the Greens, United Australia, One Nation, other minor parties, and a variety of independent candidates.

Infrastructure: a key election battleground
Infrastructure, and infrastructure investment, has been a key point of policy debate during the election campaign. In this article we highlight the key infrastructure policy positions of the Coalition and ALP and what the potential implications and opportunities are for us as infrastructure investors.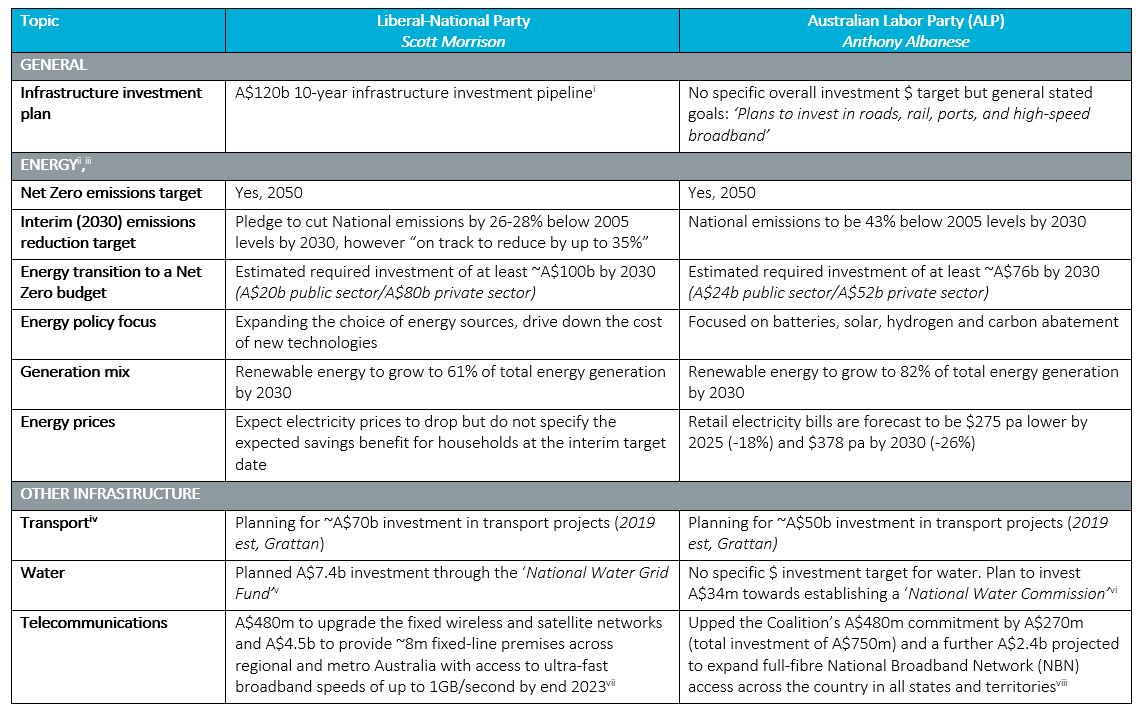 As shown in the table above, regardless of the election outcome we see significant infrastructure investment over coming decades in Australia. Just the detailed Net Zero and emission reduction plans put forward by both parties present a huge long-term investment opportunity within the energy sector, with emphasis on supply, security and energy transition.
Impact on economic growth and the listed infrastructure sector
Increased infrastructure spending is not only occurring in Australia but also very broadly around the world. This spending is a clear positive for both the global economy and the listed infrastructure sector.
In terms of global economic growth, a November 2020 International Monetary Fund (IMF) research paper argues that a synchronised infrastructure investment push could invigorate growth, limit scarring, and address climate goals. The IMF believes that, when many countries act at the same time, public infrastructure investment can help lift growth domestically and abroad through trade linkages. This looks to be occurring at present.
The listed infrastructure sector is also a clear winner from increased public sector spending. It:
boosts economic growth and labour efficiency, which is good for all businesses but especially those infrastructure businesses which form the 'arteries' of the economy;
creates potential new opportunities for the private sector to co-invest alongside government or invest in place of governments; and
on a longer-term basis, potentially provides a bigger pool of infrastructure privatisation candidates.
Conclusion: investment opportunities abound
As we observed earlier, irrespective of the Australian election outcome there is going to be considerable infrastructure investment and development in Australia over coming decades.
There are multiple domestic and international listed stocks which have, and will continue to, capitalise on the infrastructure opportunity in Australia. We see Transurban, along with other global toll road operators, as a potential partner in future road investment, whether it be through investment in their existing roads, unsolicited investment proposals or future privatisations. APA Group and Iberdrola are amongst several listed organisations that have highlighted the opportunity set within the domestic energy sector and are eager to participate and facilitate generation, energy transition, transmission and distribution solutions.
---
[i] https://www.liberal.org.au/our-plan/infrastructure
[ii] Australian's Long-Term Emissions Reduction Plan (https://www.industry.gov.au/sites/default/files/October%202021/document/australias-long-term-emissions-reduction-plan.pdf)
[iii] Powering Australia (https://keystone-alp.s3-ap-southeast-2.amazonaws.com/prod/61a9693a3f3c53001f975017-PoweringAustralia.pdf
[iv] https://theconversation.com/how-the-nsw-election-promises-on-transport-add-up-112531
[v] https://www.miragenews.com/prime-minister-speech-liberal-election-campaign-782241/
[vi] https://alp.org.au/policies/labors-plan-to-future-proof-australias-water-resources
[vii] https://www.liberal.org.au/our-plan/broadband
[viii] https://www.smh.com.au/national/government-splashes-cash-on-nbn-boost-for-regional-communities-ahead-of-election-20220321-p5a6ll.html
The content contained in this article represents the opinions of the authors. The authors may hold either long or short positions in securities of various companies discussed in the article. This commentary in no way constitutes a solicitation of business or investment advice. It is intended solely as an avenue for the authors to express their personal views on investing and for the entertainment of the reader.